RPA specialist Q-Factory and home renovation company Jokiväri were the first to experience the power of the Aito Evaluations feature. In doing so, Jokiväri decreased the time and effort spent on manually processing purchase invoices, and Q-Factory enhanced its own RPA abilities with super-fast intelligent automation, paving the way for improved RPA solutions going forward.
Defining robots for thousands of purchase invoices
Jokiväri is a leading renovation construction company in Eastern Finland, with 40 years' experience in providing renovation services. This means it produces and processes thousands of purchase invoices across multiple subcontracted projects.
"There are many steps in processing purchase invoices," says Jokiväri CFO Maiju Asikainen. "It's largely routine work, but requires a little background information from the author, as well as checking things."
Jokiväri turned to Q-Factory to provide an RPA solution to reduce the time spent working on processing purchase invoices. Robots were developed that automated the processing of purchase invoices, from the collection of e-invoices to their correct circulation.
"When defining a robot, you have to be really careful that all possible problems in the system are taken into account," says Anssi Pekkarinen, Q-Factory's CTO for QAutomate platform. "It's unfortunate if, in the middle of development, there's a problem with the system that fundamentally affects the smoothness of the robot's workflow."
Going beyond rules-based RPA with predictive technology
To ensure the RPA process ran as smooth as possible, Q-Factory used the Aito Evaluations feature to look beyond the limitations of rules-based RPA. During development of an RPA solution, all possible obstacles have to be taken into account to ensure a smooth workflow. To better predict how its robots would function, Q-Factory fed purchase invoice datasets into Aito Evaluations to validate outcomes and see if the ML-driven automation made sense.
There are many criteria to evaluate when it comes to purchase invoices, one of which is having the correct general ledger codes so that invoices end up where they're supposed to. This is often a manual process, so having a robot work its magic saves a lot of time when there are thousands of invoices to process!
Using Evaluations, Q-Factory predicted how effective an RPA scenario would be in terms of error percentage, and revealed a high automation rate straight out of the box. The final percentage rate is dependent on the quality of the dataset, which can now be adjusted to identify any snagging in the robot workflow.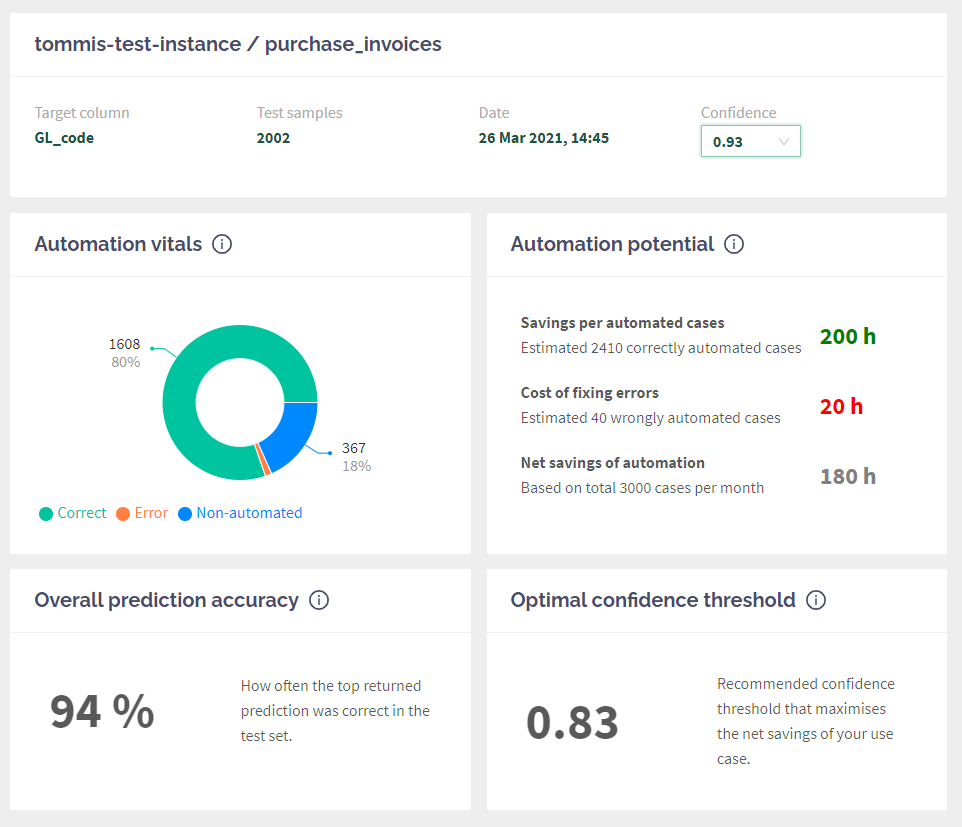 Aito Evaluations results example
Solid outcomes and future development
In being able to accurately predict general ledger codes and other accounting parameters for each invoice row, the process of ensuring purchase invoices reach their correct destination is now successfully automated. The end result: vendor gets their payments faster and more accurately.
"The purchase invoice robot is able to account for invoices almost independently using artificial intelligence," says Maiju Asikainen. "It can also take the necessary steps for a purchase invoice based on the project to which the purchase invoice relates."
Not only is the automated solution saving time and effort for the Jokiväri team, it's easy and accessible in terms of making improvements based on new data. For Q-Factory, more accurate and error-free solutions can now be confidently developed for users of the same accounting system, thanks to the magic of Aito's Evaluations feature.
Back to blog list